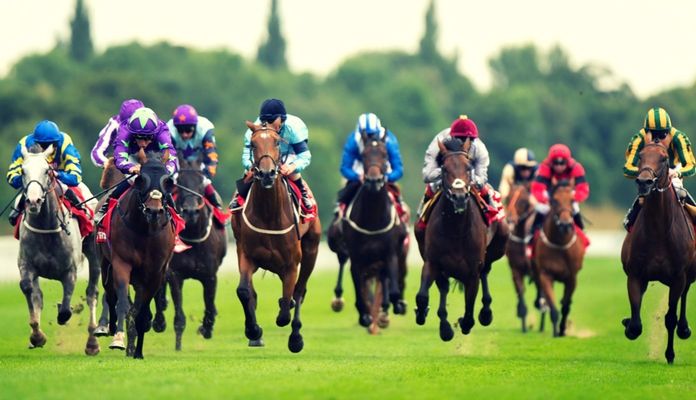 Last week's local horse racing news was dominated by a mystery virus sweeping the stables that severely depleted Ash Wednesday entries. Racing scheduled for Saturday, February 29, was postponed for lack of entries.
Nobody seems to know the origin or nature of the virus but horses affected first started by refusing feed other than roughage and then developed a fever. As usual, punters were treated with contempt as the Promoter, despite knowing from Friday February 28 that non-starters would mushroom the next day, made zero effort to give details to the betting public. By Saturday morning, punters who follow me on Twitter (@TheTerribleTout) were given a list of non-runners while the official Caymanas Park website was still giving all sorts of information from Delta Downs and Gulfstream Park race courses.
I don't want to believe the Promoter wanted customers to place their bets in the dark only to find out at the last minute that fancied contenders have been withdrawn and, instead of refunding bets or allowing time for adjustments, planned to force off-time favourites into their exotic bets as substitutes. I don't want to believe it but I can think of no other explanation for the fact that the Promoter knew details of the many non-runners hours before publishing the names.
While we're on the subject of viruses, the current superstar of what could easily be the latest Wes Craven movie is Covid-19 that, seemingly pursuant to its evil scheme for world domination by invasion from outer space, has attacked not only health care capabilities, economies and financial markets but also sporting events. Most sports are very virus friendly as they attract large, diverse gatherings. Politically, sporting events are easiest to tackle as it's simpler to order them closed than airports and transport systems. So sports become welcome scapegoats. In Italy, Series A games are being played behind closed doors. Don't expect horse-racing to escape similar punishment.
In Japan (226 confirmed covid-19 cases) and Hong Kong (93) spectators have been banned from racecourses as government policy to minimize the potential for spreading the virus while keeping the show open. The Swiss government has banned gatherings of more than a 1,000 people in a country with just 15 confirmed cases to date.
Since Jamaica's Health Ministry has finally admitted the arrival of covid-19 is inevitable I hope Racing Commission Veterinarians are already preparing to advise on policy for the continuation of horse racing while reducing the risk of a spike in infections.
DEPARTMENTS:
Clocked-In
This regular review of local performances is based on REAL times.
Abbreviations: CT = "Corrected Time"; TV = "Track Variant" (a calculation of the effect of track conditions on official times to arrive at "real" or "corrected" times); TVs are in fifths of a second; "minus" means a fast track; "plus" a slow track (e.g. -2 means fast by 2/5th of a second). Variants beside horse's names represent the difference between its official time and the grade standard.
On February 6, I wrote regarding a sharp 1000m round on February 1:
"REGGAE GONE GRAMMY was that day's eye-catcher (as a non winner of 3 running against non winners of 4) only 1½l behind Formal Fashion in 4th finishing with a flourish and full of running. She (and BALTUSROL) need only a bit more real estate….to be good things at 4yonw3."
Well, BALTUSROL did his bit on February 16 winning going away at 3/2 as @TheTerribleTout's NAP OF THE DAY! So, when REGGAE GONE GRAMMY had her turn given all of 1600m on Ash Wednesday, she was also @TheTerribleTout's NAP OF THE DAY but suffered from an atrocious ride (Omar Walker elected to go miles wide on the home turn giving all chance away while the winner saved ground throughout) and was a keeping on 3rd in a race she should have won.
I've noticed that Walker has been riding timidly ever since he suffered a bad fall and fractured arm (or shoulder) a few years ago. It's true that coward man keep sound bones but coward jockey won't keep good rides.
The only consolation was that the winner, COCO CHANEL, was another Clocked-in notebook horse from February 20's issue.
Let's see what has happened lately:
FEBRUARY 22, 2020 [TV-0.4 per 200m (Rd) -4 (straight)]
ENGLAND'S ROSE (-15) returned with a bang from a lay-off due to injury (Race 7; Hot Line Stakes; 3yofnw2/OT; 1200m; TV-2') coasting home by 8 lengths in a Stakes record breaking 1:12.0! Her CT 1:12.2' is 3/10th second faster than Open Allowance standard. She should take all the beating whenever she starts again.
BEACH BOY (-10) finally confirmed early promise after several disappointments (Race 6; 4yonw2; 1100m; TV-2) making all and winning by 8½ lengths in 1:06.3! His CT (1:07.0) is 3/5th second faster than nw3 standard. He should win again.
FEBRUARY 26, 2020 [TV+0.2 per 200m (Rd)]
RACE 10 (4yonw3; 1600m; TV-1') is a KEY RACE!
COCO CHANEL (-18) was expected to improve again but this was mouth-watering. Her time (1:38.4!) converts, on a slow track, to a CT of 1:38.2' which is more than a second faster than Open Allowance standard. One to follow at around 1600m!
The second, MY SWITCHAROO (-9), was beaten only 3 lengths but rated off the standard for Imported maidens. Her CT (1:39.0') is ½ second faster than Open Allowance standard so she won't be long in winning.
The 3rd, REGGAE GONE GRAMMY (-12),confirmed herself one to follow despite a very poor ride. Her CT (1:39.4) equals the Overnight Allowance standard. Losses are only lent.
4th, FRESH CASH (-11),earned a CT of 1:40.0 (1 2/5th second faster than nw3 and 1/5th second faster than nw3/0T);
SAN SIRO/DUKE (5th/6th) clocked the same CT as FRESH CASH.
Even the 7th, PURPLE WAYNE is one to note as his CT 1:40.1' is more than a second faster than nw3!
Overseas Betting Opportunities (OBOs)
Once again, covid-19 is the headliner with the Cheltenham festival to begin on Tuesday March 10. At time of writing there are only 23 confirmed covid-19 cases in Britain but, if it gets worse, the Authorities may have to consider postponement or relocation. The problem with relocation is an international gathering of 260,000 is expected at Cheltenham so transferring the problem to Ascot, Ayr, Doncaster, Haydock, Newbury or Sandown isn't a real solution.
Foot and mouth disease caused the 2001 Cheltenham Festival to be cancelled. The initial contingency plan was for a delayed festival to take place in April but that too had to be abandoned. Then, the British Horseracing Board tried to salvage the championship races at other venues but it was soon realized that was not on.
So, this abbreviated Cheltenham preview is delivered with fingers tightly crossed for an undisturbed festival. Last time we delivered a good winner for readers in the shape of DUBAI WARRIOR who comfortably beat the favourite in the Lingfield Derby.
So feature some of the high-class Cheltenham festival races:
Champion Hurdle (March 10; 2m½f; 1530GMT; 10.30a.m Jamaica Time)
Nicky Henderson's Epatante has risen to ante-post favourite with some solid performances that don't exactly shout Champion Hurdle winner so she can be opposed and Willie Mullins CILAOS EMERY (needs to be supplemented but connections are almost sure to take their chances) is the most likely candidate. He was 5th in the Supreme Novices in 2017 despite losing a shoe in the race and has shown a streak of class that could well take him to the winner's enclosure. He's the value bet in the event at current odds.
Champion Chase (March 11; 1m7f199y; 1530GMT; 10.30a.m Jamaica Time)
I just can't see beyond ALTIOR (BANKER BET) in this one. He blotted his copybook at Ascot in November when asked to go 2m5f (2nd to Cyrname) but that was his sole defeat in 21 races over obstacles (16 over fences). He was back to his best returned to 2m at Newbury on February 8 easily accounting for Sceau Royal (re-opposes) by 3¼ lengths. If he's beaten, I'll be devastated.
Pertempts Final Handicap Hurdle (March 12; 2m7f213y; 1410GMT; 9.10a.m Jamaica Time)
I was most impressed with the manner of PHOENIX WAY's win in the series qualifier at Huntingdon on January 24 (returning after 383 days off and a breathing operation, got up close home with seemingly a ton in hand). He immediately entered my notebook for this race and I'm sweet on his chances.
Ryanair Chase (March 12; 2m4f127y; 1450GMT; 9.50a.m Jamaica Time)
A Plus Tard blew the field away in last year's Listed Close Brothers Novices Handicap and was set right for this by a Grade 1 win at Leopardstown on December 27 over an inadequate trip. But preference is for the more experienced MIN who has twice lost to Altior at previous festivals and won't see anything like him here.
Gold Cup Chase (March 13; 3m2f70y; 1530GMT; 10.30a.m Jamaica Time)
Of the two previewedon February 6, preference is for SANTINI as the ground seems likely to come up soft.
Good Luck!